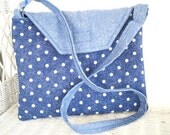 Handmade Denim iPad Sleeve,
I really like designing and sewing new things. I have made iPad 2 cases, and now that the iPad 3 is coming out, please check the measurements if you have the new one. This iPad envelope-style, quilted case is easily slipped into your bag, brief case, carry-on or back pack ready for use when you are away from home. The envelope design has a flap with a hook and loop closure. It is like an envelope pocket for your iPad and protects your device while at home or away.
The ...
Click Here to Visit My Etsy Shop!